Start
The player receives this quest upon asking if Gerdy Hooke is OK at the very beginning of the game.
She asks you to find the emergency kit from the lifeboat and gives you the

 Wood Shovel Script at the quest start.
About
Find the emergency kit that's located somewhere around the lifeboat. You might need to dig it out with the wood shovel, so cut some trees to replicate a shovel first.
Goal
Reward
Quest reward:
–
Other items gained:

The player also gets to keep the contents of the emergency kit:
Walkthrough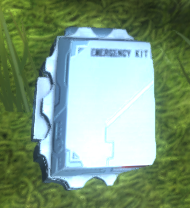 The emergency kit is located just a step behind the left wing of the crashed lifeboat. You are encouraged to construct a
 Wood Shovel and dig the chest out, but that is not necessary. The metallic lid of the emergency kit clearly protrudes from the ground; thus you can just open it by right-clicking.
If you wish to make a shovel you need to open your inventory, right click on the

 Wood Shovel Script to learn the recipe, then equip your
 Safety Axe and obtain 10 units of

 Wood, and finally replicate the shovel.
After opening the kit you will automatically proceed the to the quest Making Juice.
Be sure to take the items located in the tabs "Equipment" and "Resource"!